Stephanie
Praying Mantis for Garden Pest Control
Praying Mantis are avid hunters of insects. They are carnivorous garden predators especially effective against leaf destroying pests. They eat:  flies, mosquitoes, bees, wasps, grasshoppers, beetles and crickets and more. The praying mantid is the only predator which feeds at night on moths (moths are active after dark). Praying Mantis are the only predator fast enough to catch mosquitoes and flies!
Each egg case contains approximately 200 baby mantid.  Place the egg cases in the corner of trees, branches of shrubs or a garden fence ledge. You can tie them to a  branch with string. The egg casings will hatch after 10-14 days of WARM weather. Hungry Praying Mantis babies (about the size of ants) will swarm out and immediately look for food. You can use a small paper cup to re-distribute them anywhere in your yard where you have pest problem. Female Praying Mantis will lay more egg clusters that may hatch the following year. The praying mantis is part of nature's insect control plan, but you should not expect total pest control with the use of praying mantids alone.
Lady Bugs for Pest Control
Ladybugs are one of the most effective forms of biological pest control that we have. In addition to their favorite meal: aphids, they also eat mites, scales, whitefly, mealy bugs, cabbage moths, bollworms, tomato hornworms and broccoli worms.Ladybugs are popular in terms of aphid control because they eat so many! Adult ladybugs can eat up to a 1000 aphids a day. Early evening is the best time to release ladybugs. The ladybugs will come out of their containers very thirsty and will immediately seek moisture.  We recommend sprinkling some water around on your "target plants" before you release them. When their food supply runs short, adult ladybugs may fly off, but their eggs then hatch and provide future pest control. TIP: You can keep ladybug adults from flying away by "gluing" their wings shut (temporarily) with a sugar-water solution. Mix half water and half simple syrup (or any kind of sweet soda/pop) in a spray bottle. Lightly spray the ladybugs in the container as soon as you open it. This light spritz will easily coat most of them. After a week or so, the sugar glue wears off.  Meanwhile the ladybugs will have been feasting on your pests and laying beneficial eggs for another round of organic pest control.
Loquats, Avocados, Dragon Fruit, Nopales, Strawberry Guavas (Merced Gardens)
New Shipment of Avocados, Yellow Strawberry Guavas, Dragon Fruit, Nopal Cactus (Prickly Pear) and Loquats!Avocados include the very frost tolerant 'Mexicola Grande', the commerically popular 'Hass',
the 'Lamb-Hass' (similar to a Hass, but smaller tree), and the 'Fuerte' second most commercially
popular avocado fruit.Dragon Fruit cactus include pink fruiting and red fruiting varieties.Yellow 'Lemon' Strawberry guavas, are sweet and taste like gauvas not lemons!

Three Loquat varieties to choose from: Big Jim, Gold Nugget and McBeth.

Stop by today and see how Merced's only independent garden center can help your garden!
Have you considered Going Green" by purchasing a living Christmas Tree this year?
At Merced Gardens and Nursery we have a wide variety of  Living Christmas trees. You are sure to find one that is just perfect for your family holiday and yard!
Here is a great article by Forestry.com on how to  Care for a Living Christmas Tree.
Our knowledgeable staff will be happy to assist you with size, care, site selection and installation instructions.
As Merced's only Independent Garden Center we take pride in our employees's know how! Remember, here in Merced we recommend adding a soil amendment when transferring your Christmas tree to it's new home!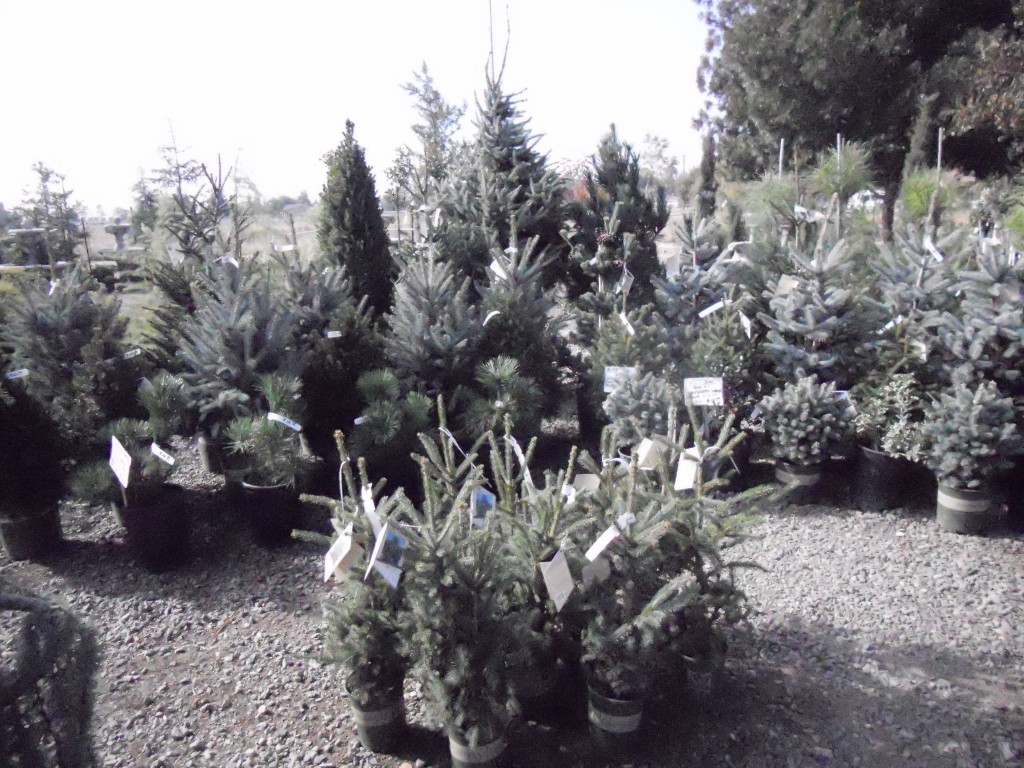 This November 24th is Small Business Saturday®, a day to celebrate and support the local small businesses that boost the economy and invigorate neighborhoods across the country.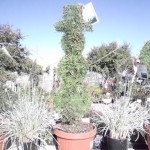 Merced Gardens & Nursery is proud to take part in Small Business Saturday, and we're encouraging everyone to Shop Small® here on November 24th. Come in on November 24th and enjoy a cup of our special mulled cider while browsing our Small Business Saturday special holiday values.
Select from a variety of gifts for the gardener or nature lover including our new line of  California artisan created nature inspired jewelry,  20% off our huge selection of garden art by Susan Regert, birdhouse ornaments and more.
Enjoy special discounts on SunDay Afternoon hats, spiral art mobiles (including patriotic) and shop our special clearance sectio
n with great values up to 70 % off.
Most importantly, get out there, Shop Small, and let's make this November 24th the biggest day of the year for small business.
September is here and so begins our wonderful Winter Garden growing season in Merced.     Stop by today and select from a great variety of winter vegetables including, lettuces, broccoli, chard and more!     New to gardening and not sure what to plant? Just ask any of our wonderful employees for guidance.  Our knowledgeable staff is hear to help you make your gardening experience a succuss.
LANTANA – RAMA at the Gardens this weekend.
Selection of colors and trailing — all 1 Gallon Premium LANTANA at 15% off.
Also premium groundcover sale—buy 3 get a fourth one free: ajuca, creeping thyme, dragonsblood sedum & ice plant.
20% off all Made in Merced products (see Made in Merced tab for pictures!)
Thank you for shopping small and supporting your locally owned small business!
News for Spring 2012
We are now proudly featuring MONROVIA plants at Merced Gardens & Nursery.
Going to the Merced County Fair?  Stop and visit us on Wednesday, June 13th during the Senior Lifestyle Expo from 5:00 – 8:00
Join us at "the Gardens" on June 16 at 11:00 AM for our Container Gardening Class.
Create a beautiful Container Garden to take home with you during our fun and informative container gardening class. A short presentation and demo covering "all the basics" will be followed by a hands-on creation session. During the hands-on session you will create a beautiful container garden: either a "color-pot" or herb container. Our friendly employees will be available to help.
.Cost $25.00  Includes: container, plants, soil, hands on instruction and take home handouts. Limited spots available.
Refreshments will be served. "Observers" welcome!
Reserve your spot today! Call 209 384-0513
On sale now:  20% all  MadeInMerced products featuring:
Redwood chairs, tables and "Big Foot" step stool by Bill B.
Stained glass decor, plant stakes, garden art by Linda R.
Reclaimed wood bluebird houses & concrete stepping stones by Mike M.
Garden art by Susan Regert
Stop by and browse our variety of artisan products for your garden, patio and home. Support your local small businesses and shop products  MadeInMerced. (click on Made in Merced tab above for a photo gallery!)
Delight your special lady on Mother's day with an everlasting bloom of color for her garden! Introducing beautiful hand blown glass flowers by Coloriscope. Great selection of colors in both single and double blooms. Or light up the night with a customer favorite ~ hand blown glass solar mushroom. In a variety of colors to complement every garden palette this  solar 'shroom will be a colorful addition to her garden both day and night!
Stop in and browse our unique gift selections sure to please every Mother ~ gardener or not!
Spring has arrived at Merced Gardens.
As Merced's only locally owned Independent Garden Center & Nursery we work hard to bring you the best varieties of vegetables, bedding plants, landscape plants, fruit trees & more sourced from quality California growers.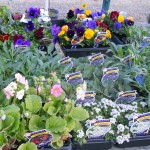 Refresh your flower beds
Blooming now: Gazanias, Osteospurmum  (African Daisy), Ice Plant, Nasturtium, Impatiens, Scabiosa, Ranunculus  and Pansies (for that quick splash of color).
 Start a vegetable garden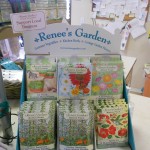 New this year:  Renee's Garden Seeds  Our customers requested this wonderful line of seeds sourced from sustainable and organic growers.  Start your seedlings now! Hot this year: Edible Container Gardening and Renee's Seeds has a variety of specialty seeds just for container planting. Watch our event page for upcoming classes on container gardening!
Starting from seed not your thing? Stop by and pick up your favorite tomato, pepper,  herbs and plants in six packs and 4 inch containers. Just a quick word of warning…the average last date of frost in Merced is April 1st. So if you plant early, be prepared to cover your tender plants if we have a frost warning!
Brad says: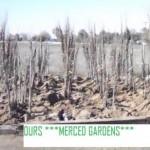 BARE ROOT FRUIT TREES ARE NOT ALL ALIKE
Healthy Trees need SUN, AIR, and WATER.
.
.
.
Compare "OURS" vs. ""THEIRS"
"OURS"  
San Joaquin Valley Grown
Locally grown means best adaptability for your yard, garden or orchard
2 year rootstock for fast and healthy tree development
Our knowledgeable nursery staff can help you plan your backyard orchard with"
taste, growth habit, and fruit ripening time and
detailed planting instructions to insure your success
"THEIRS"
stored in a plastic bag in a cardboard box
small caliper and small rootsize mean longer tree development time and smaller initial harvests
Limited varieties/grown out of area–or out of state!
"Their" staff refers you to Merced Gardens for plant information…(but they're polite about it
Stop by now for the best selection in Merced County! Many Heirloom Varieties! (an updated list of varieties delivered this week follows)
Remember….it cannot be stressed enough -
Our Bare Root Trees and Berries are locally grown which means they are best suited for our San Joaquin Valley climate!
Our knowledgeable staff will be happy answer your questions, help you select a variety and assist you with planting instructions that will insure  quality fruit production for many years to come.
Call us at 209 384-0513 for more information.
-VARIETIES AVAILABLE  - as of  1/11/2013
(Quantities are limited)
 Apples
Arkansas black
Belle de Boskoop
Braeburn
Cox Orange Pippin
Desert Golden
Fuji
Gala
Hudsons Golden Gem
Pink Lady
Red Delicious
Red Fiji
White Winter Pearman
Yellow Delicious
York
 APRIUMS
COT-N-CANDY
Apricots
Moorpark
Royalty
Tomcot
Plumcots
Flavor Queen
Flavor Supreme
Spring Satin
 Cherries
Bada Bing
Bing
Black Tartarian
Craigs Crimson
Montmorency
Rainier
Royal Ann
Stella
Sweetheart
Utah Giant
Van
Figs
Black Jack
Black Mission
White Kadota
Violette De Bordeaux
JUJUBE
Contorted
Nectarines
Artic Star
Fantasia
Goldmine
Panamint
Nectaplum
Spice Zee
Peaches
Babcock (white)
Bonita
Champagne(white flesh)
Donut Stark (white)
Elberta
Fairtime
Indian Blood
May Pride
Suncrest
Pears
Bartlett
Bosc
Max Red Bartlett
Moonglow
Pineapple Pear
Asian Pears
Hosui
Shinko
Twentieth Century
Persimmons
Chocolate
Fuyu
Giant Fuyu
Hichaya
Plums
Beauty
Burgandy
Elephant Heart
Santa Rosa
Superior Hybrid
Plumcots
Flavor Queen
Flavor Supreme
Spring Satin
Pluots
Dapple Dandy
Flavor Grenade
Geo-Pride
Quince
Jumbo
Pomegranates
Ambrosia
Angel Red
Early Wonderful
White
Wonderful
Almonds
All in One
Dwarf  Garden Prince
Non Pareil
Pecans
Mahan
Western Schley
Pistachios
Kerman
Peters
Walnuts
Chandler
Hartley
Robert Livermore
Grapes
Eastern Concord (seedless)
Flame (seedless)
Lady Finger
Princess (seedless)
Red Globe
Black Berries
Apache
Black Satin Thornless
Raspberries
Heritage Red
Blueberries
Misty
O'Neal
Sharp Blue
Boysenberries
Regular
Horseradish
Asparagus
Rhubarb
Saturday December 17, 2011     
9:00 am – 5:00 pm
*******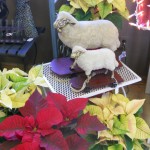 Please join us for some holiday cheer!
Enjoy some hot cider and holiday treats while you browse our
selection of seasonal plants and unique gifts. Our cider is made with Stephanie's
favorite "Aspen Mulling Spices" which is available today for the special price
$3.99 a carton.
 ***Poinsettias Buy 1 get 1 Free***
*****
Plants for the Holidays and Beyond
Shop our variety of  living Christmas trees and shrubs including, blue spruce, juniper, pyracantha, holly and a selection of "decorated" rosemary bushes. These will add a fragrant and festive touch to any holiday
home décor and can be planted in your yard to enjoy for many years to come.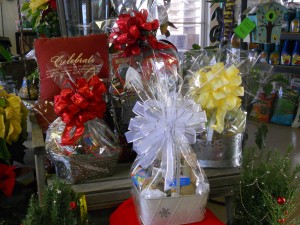 Gift Baskets
Choose from a variety of gift baskets for your favorite gardener or bird lover (supplies are limited so shop early!)
.
We also have a limited number of full size Steel Wagon Wheels for your yard….specially priced at $34.99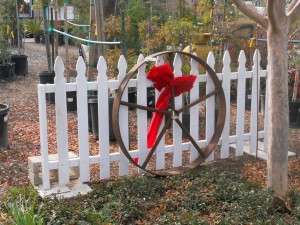 Give a gift that keeps on giving……..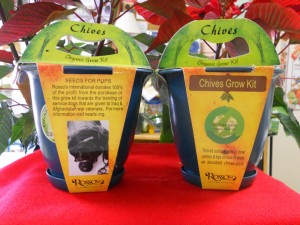 Seeds for Pups/Organic Grow Kit
Profits from the purchase of this organic grow kit funds the training of service
dogs for Iraq & Afghanistan war vets.
Special Storewide Holiday Sale includes:
50 % off all Holiday Décor.

30% off all solar lighting

30% off All Sunday Afternoon UVF Sun Protective


hats

30 % off All Birdhouse & Birdfeeders

Special clearance section – up to 75% off.
We hope to see you soon!
Happy Holidays from our garden to yours.