News for Spring 2012
We are now proudly featuring MONROVIA plants at Merced Gardens & Nursery.
Going to the Merced County Fair?  Stop and visit us on Wednesday, June 13th during the Senior Lifestyle Expo from 5:00 – 8:00
Join us at "the Gardens" on June 16 at 11:00 AM for our Container Gardening Class.
Create a beautiful Container Garden to take home with you during our fun and informative container gardening class. A short presentation and demo covering "all the basics" will be followed by a hands-on creation session. During the hands-on session you will create a beautiful container garden: either a "color-pot" or herb container. Our friendly employees will be available to help.
.Cost $25.00  Includes: container, plants, soil, hands on instruction and take home handouts. Limited spots available.
Refreshments will be served. "Observers" welcome!
Reserve your spot today! Call 209 384-0513
On sale now:  20% all  MadeInMerced products featuring:
Redwood chairs, tables and "Big Foot" step stool by Bill B.
Stained glass decor, plant stakes, garden art by Linda R.
Reclaimed wood bluebird houses & concrete stepping stones by Mike M.
Garden art by Susan Regert
Stop by and browse our variety of artisan products for your garden, patio and home. Support your local small businesses and shop products  MadeInMerced. (click on Made in Merced tab above for a photo gallery!)
Spring has arrived at Merced Gardens.
As Merced's only locally owned Independent Garden Center & Nursery we work hard to bring you the best varieties of vegetables, bedding plants, landscape plants, fruit trees & more sourced from quality California growers.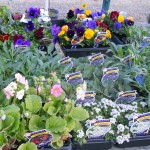 Refresh your flower beds
Blooming now: Gazanias, Osteospurmum  (African Daisy), Ice Plant, Nasturtium, Impatiens, Scabiosa, Ranunculus  and Pansies (for that quick splash of color).
 Start a vegetable garden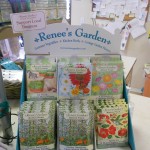 New this year:  Renee's Garden Seeds  Our customers requested this wonderful line of seeds sourced from sustainable and organic growers.  Start your seedlings now! Hot this year: Edible Container Gardening and Renee's Seeds has a variety of specialty seeds just for container planting. Watch our event page for upcoming classes on container gardening!
Starting from seed not your thing? Stop by and pick up your favorite tomato, pepper,  herbs and plants in six packs and 4 inch containers. Just a quick word of warning…the average last date of frost in Merced is April 1st. So if you plant early, be prepared to cover your tender plants if we have a frost warning!